Silk Audio Supermalloy Transformer Attenuator
We are exciting to announce the availability of the new SILK Transformer Volume Control STA-522A. This new attenuator extends the sound performance of its very successful predecessor by adopting the newest development of Supermalloy core with even higher permeability and lower loss. Winding scheme and implementation are improved to increase linearity, frequency response and boost the working level up to +8Vrms.
The former/old STA-522 did already established the highest quality Supermalloy transformer with 22 carefully selected steps in the secondary winding to function as an stepped attenuator with very high inductance (in excess of 450 Henry or equivalent to 50Kohm) with very low loss winding technique (called Nano winding technology). The primary coils are made such that it can be connected to generate +0dB or +6dB which acts like a step up transformer in a system where load input sensitivity is low (= high input impedance).

The new STA-522A retains all these features and further boost the total primary inductance up to +1100 Henry !!! Without a doubt the new SILK STA-522A offers the highest value, sound and joy for the most serious audiophiles.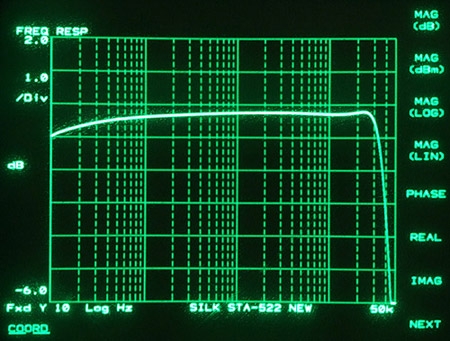 It can be clearly seen in the above plot of the frequency response characteristic of the new STA-522A, that the nasty peak/dip usually associated with regular transformer based attenuate has been eliminated. From 10Hz to 35,000Hz the frequency response is only -1dB deviation from the 1KHz reference point. Source impedance is 12K ohm, load impedance is 10K ohm. Series primary connection.



The improved winding scheme of the new STA-522A brings a very smooth phase response plot. Superior phase behavior is ensured throughout audio spectrum.
Out of phase will not happen near or close to audio spectrum.





After extensive experiments, we finally found new ways to create a super inductor
(in excess of 1100 Henry) with perfect waveform. The actual screen shot of a 10KHz square wave response at high voltage level (11.3V peak to peak) Series primary connection (1:1), 12K ohm source impedance, 10K load



| | | |
| --- | --- | --- |
| Step | 0 dB attenuation | +6dB attenuation |
| 1 | mute | mute |
| 2 | -48 | -42 |
| 3 | -44 | -38 |
| 4 | -40 | -34 |
| 5 | -38 | -32 |
| 6 | -36 | -30 |
| 7 | -34 | -28 |
| 8 | -32 | -26 |
| 9 | -30 | -24 |
| 10 | -28 | -22 |
| 11 | -26 | -20 |
| 12 | -24 | -28 |
| 13 | -22 | -16 |
| 14 | -20 | -14 |
| 15 | -28 | -12 |
| 16 | -16 | -10 |
| 17 | -14 | -8 |
| 18 | -12 | -6 |
| 19 | -10 | -4 |
| 20 | -8 | -2 |
| 21 | -6 | 0 |
| 22 | -3 | +3 |
| 23 | 0 | +6 |
| | | |