Litz wire

The resistance of a conductor depends on its cross-sectional area ; a conductor with a larger area has a lower resistance for a given length. However at high frequencies, alternating current (AC) does not penetrate deeply into conductors due to eddy currents induced in the material; it tends to flow near the surface. This is called skin effect. Therefore in a solid conductor like a wire, current tends to flow in a layer at the surface, and less current flows through the material near the center of the wire. Since less of the cross-sectional area of the wire is being used, the resistance of the wire is greater than it is for direct current (DC). The higher the frequency of the current, the smaller the depth to which the current penetrates, and the current is "crowded" into an increasingly smaller cross-sectional area along the surface, so the AC resistance of wire increases with frequency.
Each thin conductor is less than a skin-depth, so an individual strand does not suffer an appreciable skin effect loss. The strands must be insulated from each other—otherwise all the wires in the bundle would short together, behave like a single large wire, and still have skin effect problems.



Neotech UP-OCC

Neotech has been producing outstanding cables since 1980, and has long been a leader in producing wire and cable using "single crystal" UP-OCC, developed by Professor Ohno of the Chiba Institute of Technology in Japan. UP-OCC is at least 99.99998% pure, and has an average crystal size of 125 meters (410 feet)! Compare this to the average crystal size of Oxygen Free, which is .02 meters (3/4").

UP-OCC copper and silver are considered the ultimate in copper and silver conductior technology today.
.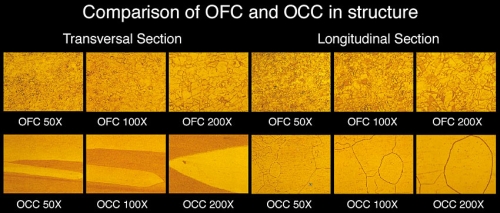 The unidirectional UP-OCC has no electric resistance and practically no crystal boundaries. Accordingly, it is able to transmit electrical signals faster and with less distortion than ordinary OFC and silver wires. All of these features make the pure OCC copper and silver the state-of-the art conductor materials for the audiophile cable industry