Audio Note silver connectors
We have developed a small range of connectors, primarily for use with our own cables, amplifiers, loudspeakers and digital products. Unlike our wires and cables that are made from solid 99.99% pure silver, silver is generally too soft and brittle to be used as a connector.
I looked for a solution to this for several years, because making the finest silver cables only to connect them to the amplifier or speaker via a thinly gold plated plug and socket seemed counterproductive to me, yes gold looks very nice and enhances our impression and sense of quality and finish, but it sounds dreadful.
The solution came to me after I tried some home made solid solver banana plugs, which promptly snapped, perhaps if the silver plating was made really, really thick, not the usual 7 - 10 micron traditionally used, so I have some of our standard sockets, connectors stripped of the gold plating and plated with 60 - 70 micron of high grade pure silver.
At first they were almost impossible to use, the thicker layer of silver made the diameter of the hole in the socket and the pin on the RCA plugs too big, so the connectors would have to be their dimensions recalculated in order to work, once that was done, it was obvious that this worked, the sonic benefit of silver without the cost and immense drawback of weak and brittle connectors.
Do they tarnish, you will now ask? Yes they do, and they will need to be cleaned occasionally for the very best sound, however, even silver oxide has far better sonic properties than any other material, so most of the sonic advantage is still present even when they are black with oxidization!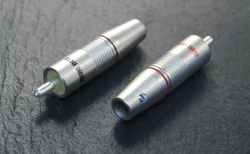 AN-GP-Ag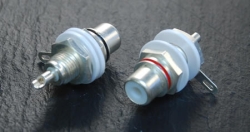 AN-CS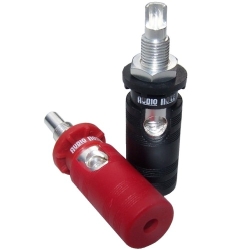 AN-SPKR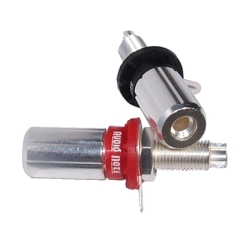 AN-MEISHU-Ag-25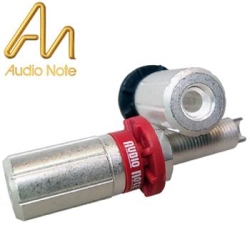 AN-MEISHU-Tellurium-Ag-25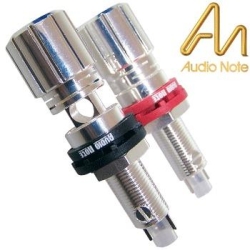 AN-Ongaku-Ag-25






AN-Banana